Via de vader van een vriend van me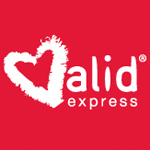 kan ik deze week terecht bij koeriers bedrijf Valid Express. Bij Valid Express hebben ze voornamelijk mensen met een moeilijk lichaam in dienst oftewel mensen met een handicap of een chronische ziekte.
Ik zal deze week de adressen van advocaten kantoren opzoeken, uitzoeken wie er gaat over de aanschaf en contracten bij de koeriersdiensten en die persoon dan een e-mail sturen om hem of haar over te halen met Valid Express samen te gaan werken.